Its been a busy summer for everyone at IRRMS and the frequency of shows for the All Prog Summer has not been as often as planned, but will extend through September.
However, Part 2 of "The Branches of Genesis Show: Anthony Phillips & Steve Hackett" will be completed in another week or so and its sounding very good.
In the meantime, you can browse through the many past episodes of the IRRMS that are listed along the left side of the blog, several of which are prog-focused.
Also, following in the more symphonic prog vein of Anthony Phillips, as well as Steve Hackett, I invite you to check out "Willowglass."
1st Willowglass album (2005)
Here is an excellent description of what you'll hear as outlined on Progarchives.com:
WILLOWGLASS is solo artist/multi-instrumentalist Andrew Marshall who lives in Yorkshire, England. Although involved in music from a young age and has played in various local groups over the last 20 years, the self-titled debut is his very first solo outing. Andrew's work blends 1970's style progressive rock with elements of classical music, adding a colourful palette of emotions & mood to his compositions, which have a uniquely English pastoral feel. It is clear that his inspiration has come from numerous symphonic prog rock bands since the 60s/70s and there are notable references to early GENESIS, YES, CAMEL and even a touch of PINK FLOYD thrown in for good measure.
The self-titled debut (2005) contains ten instrumental tracks recorded between September 2004 and April 2005, with lashings of mellotron, flute, 12-string acoustic & electric guitars. If you listen carefully you may find references to other works such as : CAMEL- "Rain Dances", GENESIS- "Selling England By The Pound", BARCLAY JAMES HARVEST - "Everyone Is Everybody Else" and YES - "Fragile". However, this is NOT just a hackneyed clone of past Classics, it is a sophisticated, graceful & intelligent interpretation of these, taking the lucky listener on a journey into lush green pastures where we can forget the busy world and almost believe we are back in 1970's again ...
HIGHLY RECOMMENDED to those who like any of the 1970's classic prog bands mentioned above and especially for those who like the style & mood of Anthony PHILLIPS' "The Geese & the Ghost".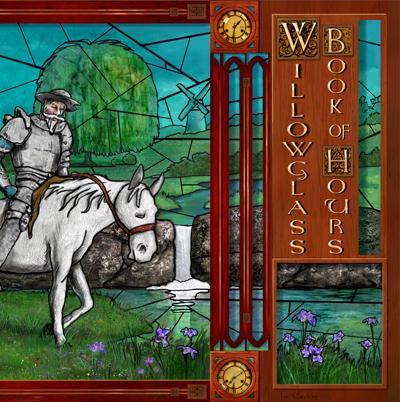 Visit the Willowglass website for more background, sound samples, reviews, and how to get the albums. They are both downloadable via iTunes.